We (Bibiche and Jelmer) live in a small town in the Netherlands called 's-Heer Arendskerke. We own two beautiful Rhodesian Ridgebacks Gandor and James. Only James is available as stud dog for suitable bitches.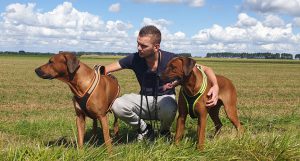 Since I was a little child I always wanted a dog of my own. I believe dogs are a really important part of our life. A few months after we bought our first house together Gandor came into our life. He is such a wonderfull dog. Gandor taught me a lot of valuable lessons in life. He is a very special dog. I can read his mind and he can read mine.
When Gandor turned one year old it started to itch to have a second Rhodesian Ridgeback. In September 2018 James came into our life. James is also so special to me. He is so different from Gandor and that makes them a perfect match. James is so sensitive and feels me perfectly. He is really my soulmate.